My venture, Wonder Yearz is an initiative to promote fitness amongst children and help them reap the benefits of a lifestyle that is active, healthy and fun.
I have categorized work out program as (i) Structured work out; and (ii) Fun Fitness. At this point of time, I am engaging with kids via online platform. India is in its 4th month of lockdown and there are lot of kids who are missing out on their outdoor trainings. Structured work out is meant for them, where I design weekly schedule and include combination of strength, endurance and core.
However, fun fitness is for every kid, who wants to be active, who was used to playing every evening, who had an active schedule going to school, meeting friends, moving around whole day, school PE lessons, who needs basic motor skills as a part of his/her growing up years or who simply wants to have FUN! So this article is going to be all about Fun Fitness
While I was working on the content for online, I was not too sure if I will be able to pull along Fun Fitness in an online platform and especially for the younger kids (say 4-6 years).
Why?
Limited attention span in online mode
Need visuals/props for better engagement levels
Love playing with more kids around;
& "Master of their own world 😊" (toughest one for me)
I was nervous when I had to host my first class for 4 year olds. I asked my friend if I could do a demo online class for his kid. He is an over enthusiastic Panjabi friend- casually confirmed and said 4 of his friends are also joining in 😉 (I was still in testing phase and did not want an unpleasant experience for anyone). I clicked on 'Start Meeting' and there they were altogether in the same house- excited, enthusiastic, jumping with joy- clearly had some invisible Duracell batteries in them <3. I survived!!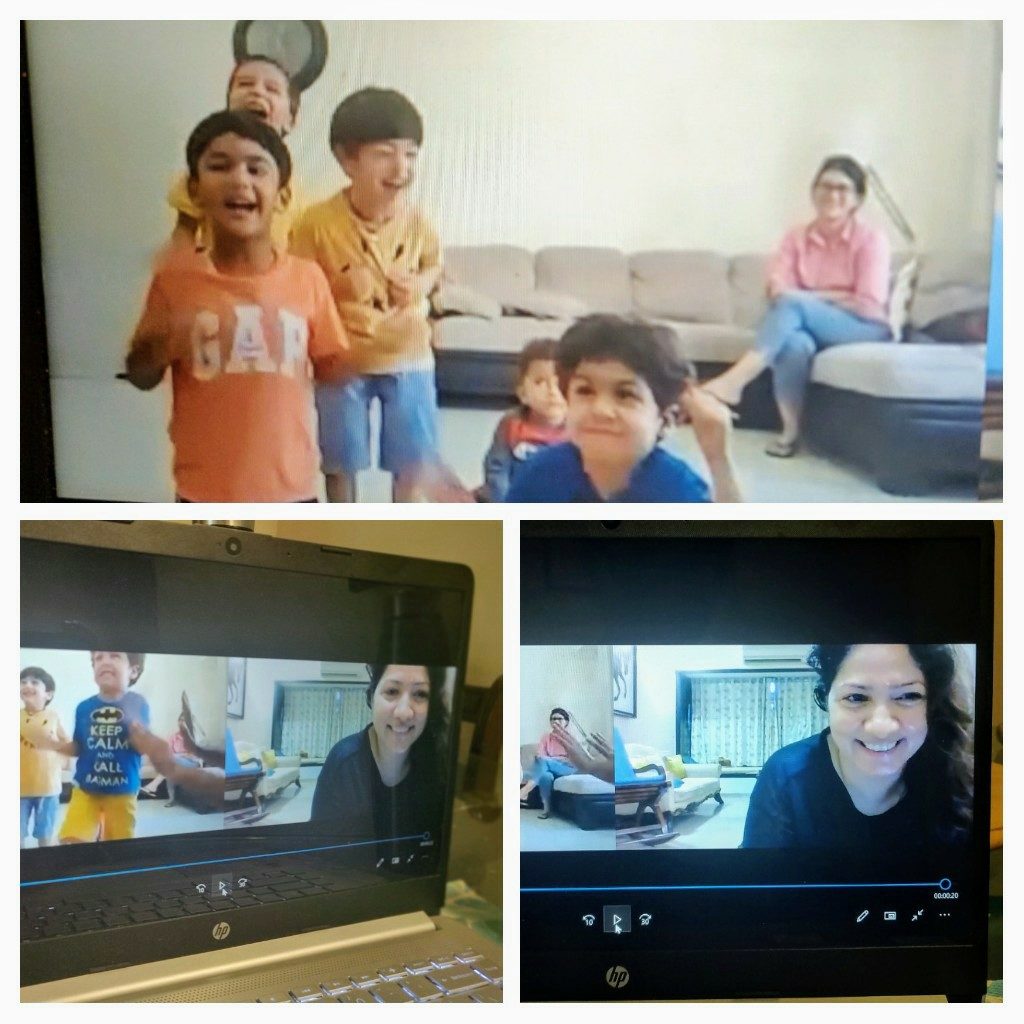 Fast forward a few months, I have learnt few tricks to engage them better. Natural self of kids is to be active- almost all of them love to run. So we have to design the work out keeping this in mind and add a lot of creativity there, especially for the younger segment. They are not in an age bracket, where you can just hand out a piece of paper, write the exercise names or switch on a work out video and get back to your own work. They might do it for a day or two, but not for long. I heard it from multiple parents how their kids do not want to participate in School Online PE Lessons and mostly parents end up sitting in front of the screen with an awkward smile (Thinking, should we do work out instead? Or should I hide video? Or should I freeze myself making it look like a technical error 😊)
I have learnt with every class what works what does not and still have lots to learn. In in my opinion, best way to engage them is to create a format that involves:
Jump: Jacks, Star Jumps, Side to Side jumps, Frog jumps
Run: Straight running, Zig Zag running, Forward Backward Running
Balance: Hopping, Balance on one foot, Become an Aero Plane
Dance: Dance Fitness, Dance Freeze
Hand Eye Coordination: Catch a Ball/Frisbee
Animal Moves: Crab Crawls, Gorilla Shuffle, Duck walk
While you do all these @ home, try story telling for the younger ones and props for slightly older ones to break the monotony. Let them participate in these stories- help them co-create. Props work well with even the former, however story telling does not work much for your 8+ (They normally give a look back to you- How Old do you think I am? :-/ ). My experience 8+ likes something challenging, something that helps them feel "Cool" amongst their friends.
Whatever way you opt for, daily 40-60 minutes active time is a must for all the kids. I can't emphasize enough on the benefits of being active for kids-both physical and mental.
In our classes, endeavor is to
Keep it simple (online + new to work out= complex)
Deliver the main content- Active time of 45 minutes
Learn something new every week
Help kids handle the session independently
Keep an interactive format
Use props to engage better (& you don't need any fancy stuff) *
No judgement, no competition, pure happiness time (they have enough to deal with everywhere else)
Make it as much FUN as possible
We share our moments of joy and I have immense contentment in making these kids smile and laugh whole through. In all this lockdown chaos, all these little wonders have kept me sane and I can't thank them enough
*In an ideal scenario would love to have cones, ladder, ball, hurdles etc. But I did not want to bother parents with one more thing in the lockdown. We make do with easily available things at home and now we have an alternative prop for all the sporty stuff